PIXIE PLAYGROUND
Whether PIXIE is used on a table or the floor, it needs to be on a smooth flat surface. It is a good idea to have a special PIXIE area and prevent PIXIE from moving off it. We have a PIXIE playground to do just this. Our new version PIXIE playground is a piece of 2mm thick powder-coated white steel with turned-up edges to keep PIXIE from escaping. You can use it on the floor so that PIXIE does not get everywhere and it also gives a better surface than a carpet, or you can use it on a tabletop to prevent PIXIE falling off the edge. As the new playground is steel, you can use fridge magnets on it to create microworlds for PIXIE to go around.
The old version of the playground was made of wood and hardboard. If you want to make your own playground, follow this link and you can make one similar to that.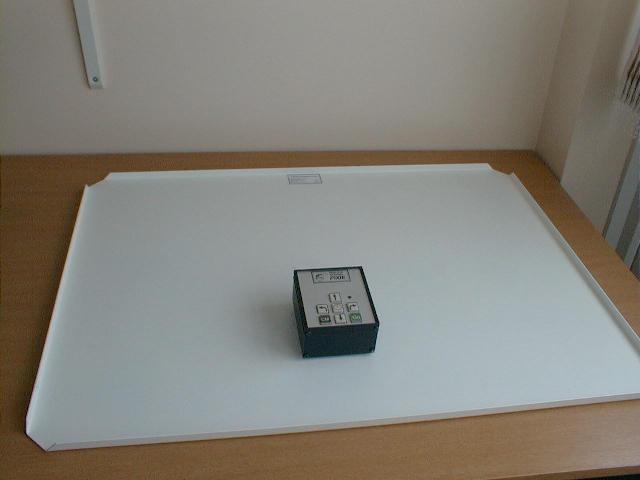 PIXIE on a playground
We supply some ready-made resources to use with PIXIE on the playground. The PIXIE Playmat has 24 PIXIE-sized squares with shapes and letters printed in them. The squares also have coordinates marked to locate them. The playmat is made of transparent vinyl and the printing is done on the reverse so that PIXIE does not wear it away. You can, for example, put pictures behind it to customise it for your own use. The PIXIE playmat comes with a shapes dice and instructions for playing shapes and spelling games. It is the correct size to fit in our PIXIE playground and many people will buy both at the same time to save postage and packing.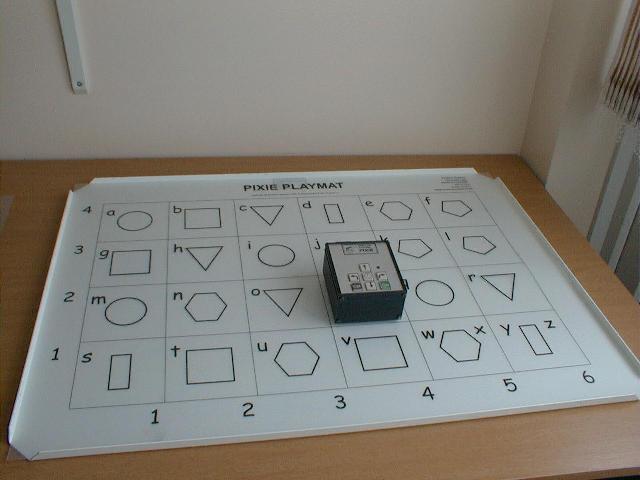 PIXIE, playmat and playground
Our PIXIE grid is a PIXIE playmat with blank squares. It still has the coordinate system. You can tape photos or other materials to the back to make your own microworlds for PIXIE. If you use our PIXIE playground as the background you can draw materials on the playground with a dry marker pen and put the grid over the top.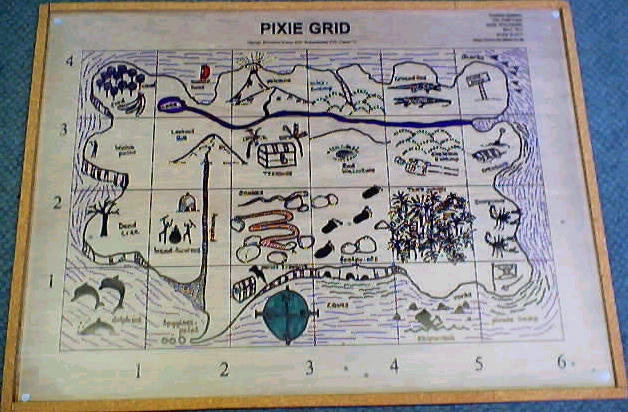 This is a picture of the PIXIE grid on a rather interesting map. Many thanks to Jonathan Pascall from Calderdale who emailed it to me. The map was made by Tracy Wimbles and Tony Irvine of Castlefield Infants School, Rastrick & Brighouse. It is a good example of the possibilities. Note that each square has something interesting in it.
Application Notes
We have two volumes of teachers notes. These are 16 or more A4 sheets that are freely photocopiable within the school that buys them.
Volume 1 has covers to make PIXIE into an aeroplane, a racing car, a frog, a delivery van, an adder, a witch or a railway engine. There are ideas for using these characters in topics.
Volume 2 has instructions and rules for making and playing three versions of the colour game. This is played on a grid of coloured PIXIE-sized squares. The children have a colour dice and whatever colour comes up on the dice determines the square that they must make PIXIE go to. There are other ideas in volume 2 for less able children, multiple PIXIEs, and using angles other than 90 degrees.