We have two volumes of Teachers' Notes for PIXIE. These are 16 or more A4 sheets that are freely photocopiable within the school that buys them.
Volume 1 has covers to make PIXIE into an aeroplane, a racing car, a frog, a delivery van, an adder, a witch or a railway engine. There are ideas for using these characters in topics. It is very cost-effective and you only ever need to buy one. It is in each of the starter packs as we think every school with a PIXIE should have it.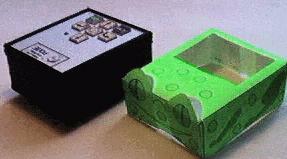 Volume 2 has instructions and rules for making and playing three versions of the colour game. This is played on a grid of coloured PIXIE-sized squares. The children have a colour dice and whatever colour comes up on the dice determines the square that they must make PIXIE go to. There are other ideas in volume 2 for less able children, multiple PIXIEs, and using angles other than 90 degrees.
The grid ideas from Volume 2 have, to a certain extent, been supplanted by the Playmat and Grid. We no longer recommend that you buy a set of them, especially as they are published on our website here.