Physical characteristics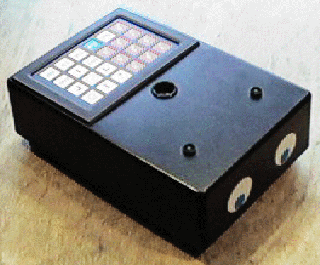 | | |
| --- | --- |
| Length | 225 mm |
| Width | 150 mm |
| Height | 90 mm |
| Weight | 1.6 Kg |
| Cruising speed | 8 cm/sec |
PIP has a sturdy rectangular black ABS casing with a 24-key keyboard on top. There are 2 LEDs on top surface and a charger socket and charging LED underneath. There is a hole in the middle to take a 12mm felt-tip pen.
The rectangular shape makes it easy to tell which way PIP is pointing and align it to go in a particular direction.
The flat load platform enables PIP to carry things in the classroom. For example, one easy task is to program PIP to carry a book across the floor to a friend. Many users attach LEGO to the top of PIP and then build onto that. More adventurous users might program PIP to take the register back to the school secretary after roll call.
Power supply
PIP has a built-in rechargeable battery. This gives over an hour of continuous movement. When not moving, the power consumption is greatly reduced. It is not possible to remove the battery without dismantling PIP.
PIP can be charged whatever the battery state. When fully charged the charging LED underneath goes out.
The charger is included in the price.
PIP meets the current EMC regulations and is CE marked. It is O.K. to take PIP away from an educational establishment and use it at home.
The best charging regime is to charge PIP overnight after each use. PIP should be recharged every 3 months or so even if it has not been used. PIP cannot be overcharged.
The charger normally supplied is for U.K. 3 pin plugs. We can supply 230V AC european chargers to special order. No U.S. charger is available.