1999 Micromouse National Finals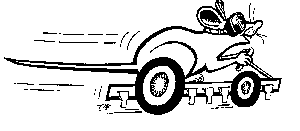 These pages are sponsored by SWALLOW SYSTEMS
There are rumours that the adult 3D competitions will be scrapped by the I.E.E. after this year. Many will be very sad if this competition dies.
PLEASE HELP TO SAVE THE OLDEST ROBOT COMPETITION IN THE WORLD!
Follow this link to keep up with the situation and add your comments.
The 1999 national finals took place at Exeter University on 10th July. Many thanks to the University and the Institution of Electrical Engineers for organising the event.
There are 5 main types of competition. Follow the links for details of each one.
If you have any technical information about your mouse, please email it to me. Any photos would be good as well. This site is only interesting because of the information on it, please help all the other teams to find out how you did it! mailto:tech@swallow.co.uk
A selection of pictures
You can email queries to me at:- Duncan@swallow.co.uk
Date Last Modified: 13/7/99